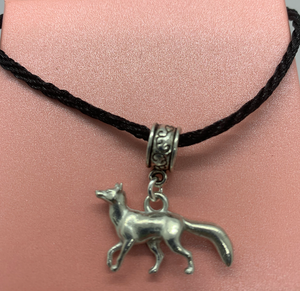 Show your foxy spirit with our 3 dimensional fox pendant necklace!   Subtle enough for every day wear, yet a great statement piece, these charms are durable and heavy and will not tarnish.  The fox is mounted to a pewter decorative fitting, and comes on a braided satin corded necklace that is 17" with a two inch extension, lobster claw clasp.
   Pendant is approximately 27mm./1in. long from nose to tail. Please check your recipient for allergies to metals. Not for children under the age of 8, choking hazard.  Made in England. 
Discontinued, there are only a handful of these left in stock and will be discontinued so grab yours now! This is our last batch of jewelry manufactured by Kelly Sealey.