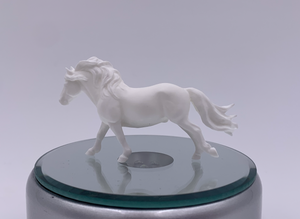 Scamp is a spunky little Shetland Cross pony, here he is in a beautifully digitally remastered cast resin version, 1/32 scale.  Cast by Mountain View Studios, which is now closed, we were only able to get a few of these.
Solid cast resin
Digitally remastered by Kelly Sealey to enhance features
Beautifully clean resin, may need some mild prep before painting
Sculpted by the same talented artist that did our beautiful Connemara pony.