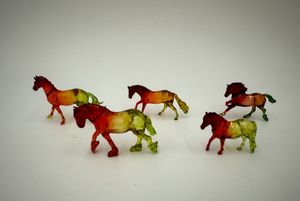 Welcome to the Apple Orchard! 
This offering will be gambler's choice, which means you will receive a randomly selected model from the Copperfox lineup.

Micro miniature scale (Copperkit) In solid clear ware 3D printed resin, dyed and sealed with four coats of UV protectant in a high gloss.
You will receive one model in micro miniature scale, dyed in beautiful fall hues of Red delicious and Yellow delicious apples, cortland, macintosh, Granny smith and Jonagold! 
You might even receive a "Worm" in your apple!
 Please allow up to 4 weeks for delivery