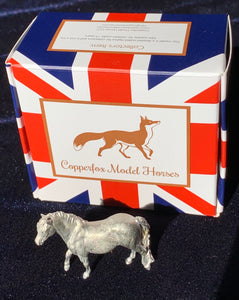 The fan favorite "Trifle" Exmoor has been reproduced in solid cast pewter, with her little mane and tail tussled, a tummy tuck and other neat details!  She is adorable as they come.
Paintable, or display as is, collect all six! Made in a collaborative effort with sculptor Kelly Sealey to preserve and accentuate every detail.
Approximately 1/64 scale, each pewter micro miniature stands about 23-38 mm. high.