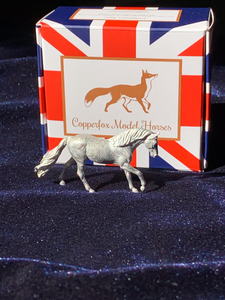 Heavy in hand yet tiny in stature,  The Connemara in micro miniature scale was carefully crafted to retain the details of the original sculpture in a tiny scale.   
In a collaborative effort with talented sculptor Kelly Sealey, these were made with attention to preserving the model's tiniest of details. Kelly worked tirelessly to ensure all the details were captured and preserved in these casts.  
Paintable, or leave in their raw state, they are fun to display and collect!
Micro miniatures are approximately 23 to 38 mm. tall. Solid pewter. 1/64 scale
Discontinued item, when we are out of stock they will be gone.