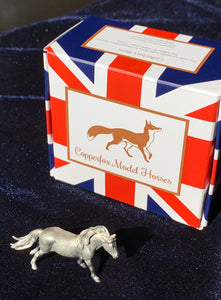 The little Shetland cross known as "Scamp" has been reproduced in solid cast pewter, at about 23 mm. tall he is small but mighty!   
Paintable, or leave as is for a fun display. Collect them all!
Approximately 1/64 scale, each pewter micro miniature stands about 23-38 mm. high.
BUY TWO PEWTER ITEMS AND GET A CLEARWARE MICRO FREE!  YOUR CHOICE OF MACDOUGAL, EPONA, OR A MYSTERY!  ENTER CODE AT CHECKOUT FOR YOUR CHOICE AFTER ADDING TWO PEWTER ITEMS AND YOUR MICRO-MINI MODEL OF CHOICE TO YOUR CART. 
CODES: EPONA
              MACDOUGAL
              MYSTERY