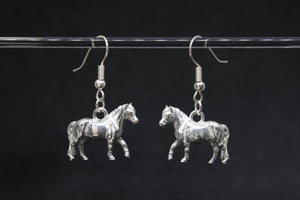 Show your pony spirit! 
Hand crafted in the UK, not for children under the age of 8, choking hazard.  Sterling fishhook and jump ring.  Solid pewter Exmoor models, not too heavy for your ears, but enough weight so you know they are there.  The models are mirrored versions of each other, with a polished finish.
Nickel and lead free pewter with sterling fittings.
Discontinued item, once these are sold out they will be gone!