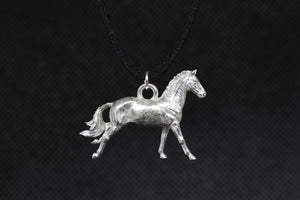 The Irish Sports Horse sculpted by Morgen Kilbourn is here in a charming pewter necklace!   Subtle enough for every day wear, yet a great statement piece, these charms are durable and heavy and are easily polished if tarnished.  
  Pendant is approximately 29mm./1in. long from nose to tail. Please check your recipient for allergies to metals. Not for children under the age of 8, choking hazard.  Made in England. 
 October and November Special! Free micro fox in pewter with purchase of any jewelry piece, while supplies last!